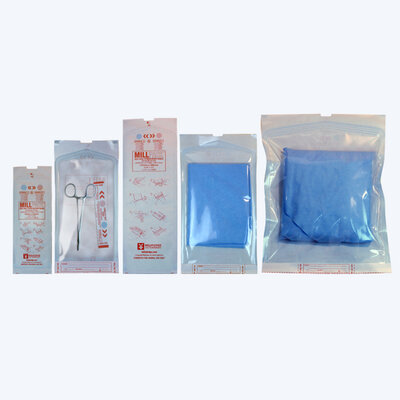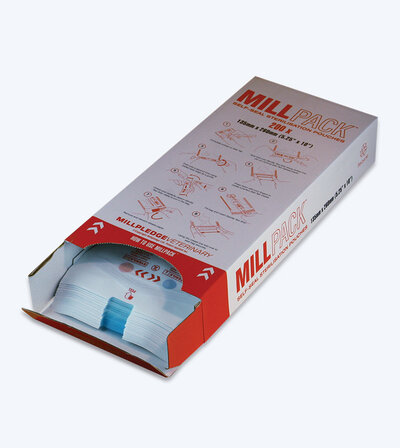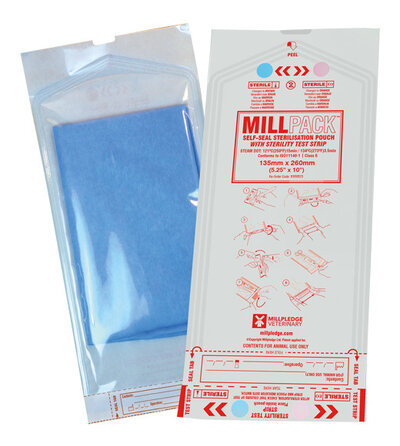 Millpack™
Surgical Consumables • Sterilisation Pouches
The Ultimate All-In-One Sterilisation Pouch – 100% Recyclable! with Sterility Test Strip included. New and improved Millpack™ now has a built-in Sterility Test Strip (STS)
To enquire about this product log in or enquire
Or
Product Enquiry - Millpack™
Description:
The Ultimate All-In-One Sterilisation Pouch with built-in Sterility Test Strip included. You'll never have to look for a box of TST strips again! Pack of 200.
Fully recyclable packaging. Designed, printed and patented specifically for Veterinary use!

Wide range of sizes for the utmost convenience, for handling instruments, drapes, swabs, dressings or surgical procedure packs etc. during autoclaving.

Peace of Mind for the Veterinary Professional
Millpledge Quality
ISO 9001 High Quality Manufacturing for over 30 years
Unparalleled Customer Support
VN's or RVT's on hand to support your business
Delivering better patient outcomes
Products Designed and Developed for the Veterinary professional
Overnight Direct Supply
International distribution partners around the world